This is an archived article and the information in the article may be outdated. Please look at the time stamp on the story to see when it was last updated.
A 26-year-old man turned himself in to police Monday in connection with a hit-and-run that killed a pedestrian in Encino earlier in the day.
Grant Valentine of Woodland Hills surrendered to police around 4 p.m,, according to LAPD Detective Bill Bustos.
He was booked on suspicion of felony hit-and-run and was being held on $50,000 bail, Bustos said.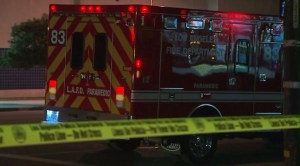 The victim, a man in his 50s, was walking westbound in an eastbound lane in the 16000 block of Ventura Boulevard about 12:20 a.m. when he was hit by a black Cadillac Escalade, according to the Los Angeles Police Department.
Paramedics responded to the scene and performed CPR on the man, who died in an ambulance.
The Escalade's right front end and headlamp were damaged in the collision, Bustos said. Witnesses reported the vehicle's partial license plate as 6EW.
"It is the responsibility of the driver or — anyone involved in a traffic collision – to stop," Bustos said. "Unfortunately this pedestrian was walking outside the unmarked crosswalk when he was hit. We don't know why he was doing that, but the driver should have stopped."
Anyone with information about the crash was asked to contact the Los Angeles Police Department's Valley Traffic Division at 818-644-8000.