This is an archived article and the information in the article may be outdated. Please look at the time stamp on the story to see when it was last updated.
LAKE ELSINORE, Calif. (KTLA) — Police in Lake Elsinore are looking for a man who tried to kidnap a girl as she walked home from school.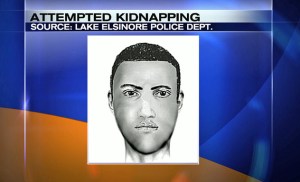 Authorities say the suspect pulled up alongside the 10-year-old girl as she was walking home on Wednesday afternoon near Nectarine Street and Rolando Road.
The man got out of his car and grabbed the girl, yelling at her to get in his vehicle.
Another car drove by, and the suspect ran back to his car and sped away. The girl was not hurt.