This is an archived article and the information in the article may be outdated. Please look at the time stamp on the story to see when it was last updated.
Local law enforcement were searching Wednesday for two men involved in the brutal beating of a transient along the Venice Beach boardwalk that was caught on video.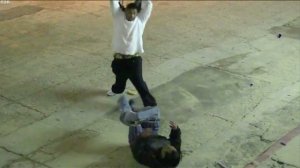 The incident happened early Friday morning in the 1300 block of Ocean Front Walk near Horizon Avenue, according to police.
The graphic video showed one of the men continuously hitting the transient with a folding chair and kicking him multiple times.
A local resident videotaped the attack after a neighbor called 911.
Police said they don't have a motive for the beating.
"It doesn't appear to be provoked, and this is still in the early stages of the investigation," Los Angeles Police Department Capt. Victor Davalos said.
Both men left the scene before police arrived.
The victim, who has not been identified, was treated at a local hospital for his injuries and released.
KTLA's Tracy Bloom, Kennedy Ryan and Wendy Burch contributed to this report.