This is an archived article and the information in the article may be outdated. Please look at the time stamp on the story to see when it was last updated.
Los Angeles police have detained a man suspected of raping a woman in Maywood, authorities said Saturday.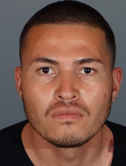 Salvador Martinez, 28, was arrested Friday near Fresno with the help of the U.S. Marshall's Fugitive Task Force, according to a press release from the L.A. County Sheriff's Department. Deputies responded to the area and assumed custody of the suspect, who was transported back to L.A. County, officials said.
Martinez has been charged with rape, in addition to other related charges, and his bail is set at $1 million, the release states.
He will be arraigned in Norwalk Superior Court on Tuesday, Nov. 22. The department said it will provide additional details about the circumstances of Martinez's arrest in a press conference Monday at 10 a.m.
In the Nov. 13 crime, the suspect entered the victim's home through a window between midnight and 4 a.m. when she was alone, deputies said. He then went into the victim's bedroom, stood over her and sexually assaulted her, authorities said.
Officials believe Martinez may be connected to five similar crimes that occurred in Maywood over the past month, and said they are using forensic evidence in attempt to confirm that.
Anyone with additional information about the incident is encouraged to contact Lt. Deeds at 562-946-8231.