This is an archived article and the information in the article may be outdated. Please look at the time stamp on the story to see when it was last updated.
A man convicted of shooting his girlfriend in the head and pushing her body from a car during a police pursuit last year was sentenced to 47 years to life in prison Wednesday.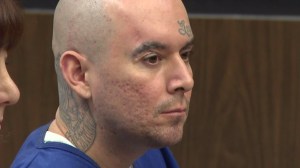 Juan Diego Valencia, 31, was sentenced at Compton Superior Court, where the judge called the crime one of the worst acts of cruelty he'd ever seen.
Valencia shot and killed 24-year-old Selene Mayoral of Cudahy; he was convicted of second-degree murder in her Sept. 6, 2012, death.
Valencia was at the wheel of a green Mercury Cougar when Los Angeles County Sheriff's Department deputies tried to stop him for a traffic violation in Lynwood at about 11:15 p.m.
He shot Mayoral, sped off, then pulled over and dumped her body out of the car. Struck one time in the head, Mayoral died at the scene.
Valencia had barricaded himself in a Hawthorne apartment after the chase, and a SWAT team ended a standoff there.
Both Valencia and Mayoral were high on methamphetamine, prosecutors said, calling Valencia a gang member.
"The gang (does) a lot of harm to people who don't do anything to them," Mayoral's mother said through a translator outside the courtroom.
KTLA's Dave Mecham contributed to this report.