This is an archived article and the information in the article may be outdated. Please look at the time stamp on the story to see when it was last updated.
An elementary school in South Los Angeles was placed on Lockdown Tuesday after a man was seen on campus carrying what was believed to be some kind of weapon.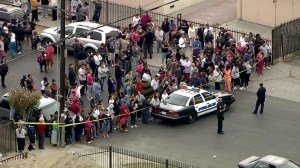 A faculty member at Loren Miller Elementary School, located at 830 W. 77th St. (map), called police after seeing a man carrying something resembling a gun wrapped in a black cloth, said Hector Rodriguez, deputy police chief of the Los Angeles Unified School District.
Loren Miller Elementary and the attached Wanda Mikes Children's Center were placed on lockdown while authorities searched room to room for the man.
There were no reports of shots fired or injuries.
The search concluded with no sign of the man or a gun, Rodriguez said.
Aerial video from Sky5 showed parents lined up outside the school waiting to be reunited with their children.