This is an archived article and the information in the article may be outdated. Please look at the time stamp on the story to see when it was last updated.
WILMINGTON, Calif. (KTLA) — An investigation was underway early Tuesday morning into a double shooting in Wilmington.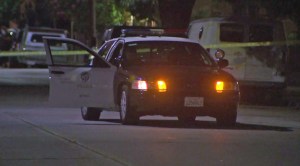 It happened around 2 a.m. in the 400 block of W. G Street.
A man and a woman were sitting outside a home when a man walked up and opened fire, police said.
The woman was hit in the head. Both victims were transported to an area hospital and were expected to survive.
"They were sitting in the front yard of a residence, just minding their own business, and shots rang out," said LAPD Lt. Eric Holyfield.
The victims did not live at the home and were not familiar to the residents, he said.
Police did not immediately have a description of the alleged shooter.