This is an archived article and the information in the article may be outdated. Please look at the time stamp on the story to see when it was last updated.
The second storm to hit Southern California this week caused heavy mud flows, power outages and road and school closures Friday, and also prompted several mandatory evacuation orders to be issued in areas affected by recent brush fires.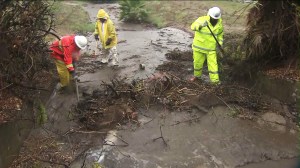 The forecast called for more heavy rainfall across Southern California throughout the day, with a chance of thunderstorms, according to the National Weather Service.
The weather service issued a flash flood warning in parts of Los Angeles County Friday evening, including in Burbank, Beverly Hills and La Cresenta. The warnings were issued around 7:15 p.m. and expired at 8:45 p.m.
A flash flood watch was in effect in L.A. and Ventura counties on Friday night, and was set too expire Saturday evening.
The rain prompted fears of possible mudslides, particularly in foothill communities affected by last month's Colby Fire.
Residents in Azusa and Glendora filled sandbags to help prevent flooding as the storm approached the fire-scarred San Gabriel Mountain foothill communities.
The fire left nearly 2,000 acres of mountains and hillsides scorched and bare, the Los Angeles County Fire Department said.
A plume of white smoke from the Colby Fire burn area rose after a large boulder rolled down amid the rain. Fire officials said the blaze was still smoldering under the bolder.
Due to the storm, a number of mandatory evacuations were in effect Friday in areas affected by recent brush fires, including in Glendora, Azusa and the foothill areas of Monrovia, authorities said.
Mandatory evacuations in Azusa were expanded to include all homes on Ridge View Drive, the city announced Friday evening.
Several homes were also evacuated in Lake Hughes amid concerns of flooding and mudslides, according to the L.A. County Sheriff's Department.
In Monrovia, where the Madison Fire charred about 125 acres last April, mandatory evacuations were issued for the following neighborhoods: Highland Place north of Hillcrest Boulevard; Scenic Drive; Lotone; Heather Heights north of Scenic Drive, Avocado Place; the 600 block of Hillcrest Boulevard; and the 900 block of Crescent Drive.
An evacuation shelter was expected to be set up at the Monrovia Community Center at 119 W. Palm Ave., according to the city.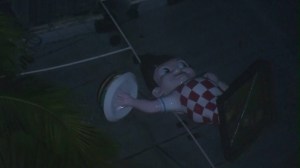 At least one home in Monrovia was affected by a mudslide, according to authorities.
Streets in the burn area of Glendora were subject to a "hard closure" at 8 p.m. Thursday, police announced.
Hours later, the United States Postal Service announced it was temporarily suspending mail delivery to Glendora and Azusa.
"This temporary discontinuance of mail delivery areas may continue into the weekend as the storm progresses," the USPS said in a statement.
No damages have been reported as a result of the storm, Glendora city officials said during an afternoon press conference.
In Malibu, a portion of Pacific Coast Highway was closed Friday morning from Las Posas Road to Yerba Buena Road, due to the threat of further rock slides, the California Highway Patrol said. It has since been reopened, the Ventura County Sheriff's Office stated in a news release.
The Sepulveda Basin was also closed — likely until Monday — because of flooding, according to a tweet from the Los Angeles Police Department's West Valley Division. Motorists were encouraged to avoid Burbank Boulevard between Balboa Boulevard and the 405 Freeway until it reopened.
Meanwhile, flooding was reported Friday afternoon in the 7500 and 7600 block of Buckwheat Road in Pinon Hills after a levy failed, according to the San Bernardino County Fire Department. No evacuations were ordered.
The latest storm was expected to bring gusty winds and high elevation snow to the mountains, the weather service said.
The rainy weather also brought some dangerous conditions to the Los Angeles River, where two men and two dogs had to be rescued amid a swift current and rising waters after they became trapped in a tree that was located in the wash.
A coastal flood advisory was also issued for Los Angeles County until noon Saturday.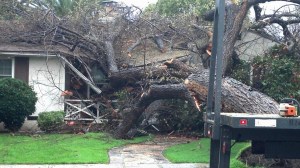 Meanwhile, a flood watch was in place for parts of Orange County and the Inland Empire, the weather service said.
At about 1 a.m., the power went out in nearly 2,000 Costa Mesa homes, however electricity was restored as of about 7:30 a.m.
Outages were also reported for about 1,200 homes in Ventura County, according to Southern California Edison.
Tens of thousands of Southern California Edison and Department and Water Power customers were also without power as of Friday afternoon.
The areas with the highest numbers of customers impacted were East Hollywood, Vermont Vista and Sawtelle, the LADWP said.
As of Friday night, all but 2,900 LADWP customers had their service restored. Southern California estimated at one point that 36,000 people were without power because of the storm.