This is an archived article and the information in the article may be outdated. Please look at the time stamp on the story to see when it was last updated.
Marguerite Poindexter LaMotte, who served on the Los Angeles Board of Education longer than any other current member, has died, an L.A. Unified spokesperson said Wednesday. She was 80.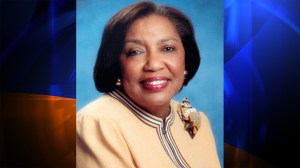 The spokesperson declined to comment on the date or manner of LaMotte's death.
The longtime board member served as principal at Washington Preparatory High School before being elected to the Los Angeles Unified School District board in 2003, according to her official biography on the district's website.
She held a bachelor's degree and a master's degree in education from Southern University and Louisiana State University, respectively, the website said.
In November, she cast the sole opposing vote when the Board of Education voted 5-1 to give Superintendent John Deasy a positive job evaluation, the Los Angeles Times reported.
An ally of the teachers union, United Teachers Los Angeles, LaMotte had often been a critic of charter schools in Los Angeles, which grew exponentially during her time in office.
"Marguerite LaMotte fought tirelessly for students in Los Angeles and she will be dearly missed by the entire community.  She spoke from the heart at school board meetings, often referring to students as 'our babies,'" UTLA stated in a written response to her death.
State Superintendent of Public Instruction Tom Torlakson, also a union ally, remembered LaMotte in a statement as well.
"Marguerite was a true friend and leader to her schools, her district, and her community—but, most of all, to the students she served," Torlakson said.. She was a valiant champion for children, someone who was guided by a deep-rooted belief in their limitless potential."
KTLA's Melissa Pamer contributed to this report.