This is an archived article and the information in the article may be outdated. Please look at the time stamp on the story to see when it was last updated.
The names of the draft prospects that will be at Radio City Music Hall on April 25 for the 2013 NFL draft have been announced, but not on the list are former USC quarterback Matt Barkley and former Notre Dame linebacker Manti Te'o.
The 23 players who have accepted invitations from the NFL will wait in the green room until their name is called by Commissioner Roger Goodell.
But there's no guarantee that'll happen the first night — last year six players were still in the green room after the first round.
Barkley's pro day at USC drew representatives from nearly every NFL team.
However, many draftniks, including The Times' Sam Farmer, have the quarterback pegged to go in the second round.
Barkley had been considered a Heisman Trophy candidate before his senior season.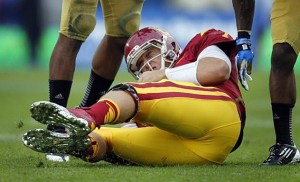 However, USC finished 7-5 and Barkley suffered an injury to his right shoulder.
The last USC quarterback selected in the first round was Mark Sanchez by the New York Jets with the No. 5 pick in 2009.
Highly decorated linebacker and Heisman Trophy runner-up Te'o also won't be at Radio City after some tough — and bizarre — post-Bowl Championship Series title-game fallout.
Te'o's draft stock suffered after the sudden death of his girlfriend Lennay Kekua, a driving force behind his national appeal, was revealed to be a hoax.
Then, a poor performance at the NFL scouting combine in Indianapolis created more questions about the 6-foot-1, 241-pound linebacker than answers.
Another big name you won't see at Radio City is Utah's Star Lotulelei.
The defensive lineman announced he'll spend draft night with family and friends.
The following players will be at Radio City, according to NFL.com:
Ezekiel Ansah, DE, Brigham Young
Tavon Austin, WR, West Virginia
Jonathan Cooper, G, North Carolina
Eric Fisher, OT, Central Michigan
Sharrif Floyd, DT, Florida
D.J. Fluker, OT, Alabama
Luke Joeckel, OT, Texas A&M
Lane Johnson, OT, Oklahoma
Dion Jordan, DE, Oregon
Eddie Lacy, RB, Alabama
EJ Manuel, QB, Florida State
Dee Milliner, CB, Alabama
Barkevious Mingo, DE, Louisiana State
Cordarrelle Patterson, WR, Tennessee
Eric Reid, S, Louisiana State
Xavier Rhodes, CB, Florida State
Sheldon Richardson, DT, Missouri
Geno Smith, QB, West Virginia
Desmond Trufant, CB, Washington
Kenny Vaccaro, S, Texas
Chance Warmack, G, Alabama
Menelik Watson, OT, Florida State
Bjoern Werner, DE, Florida State
— Matt Wilhalme, LA Times