This is an archived article and the information in the article may be outdated. Please look at the time stamp on the story to see when it was last updated.
ONTARIO, Calif. (KTLA) – An investigation was under way on Saturday after a driver intentionally plowed into three women, Ontario police said.
The trouble started when a couple got into an  argument in the 600 block of West La Deney Drive.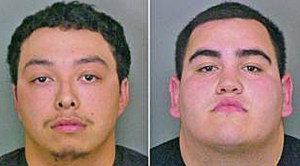 The boyfriend, identified as 18-year-old Matthew Rodriguez, got into the passenger seat of a black Honda, police said.
His a friend, identified as 19-year-old Isaac Casares, was behind the wheel Ontario police said.
Casares intentionally struck Rodriguez's 19-year-old girlfriend, her older sister and their mother, who were all walking away from the location, according to investigators.
The women suffered non-life threatening injuries.
Casares was arrested for driving under the influence with injuries, hit-and-run and assault with a deadly weapon.
Rodriguez also arrested for making terrorist/death threats, but he was later released.