This is an archived article and the information in the article may be outdated. Please look at the time stamp on the story to see when it was last updated.
Fourteen people suffered minor injuries Sunday morning when a Metro bus collided with a traffic-light pole in Bell, authorities said.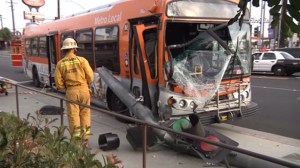 Firefighters responded at 6:58 a.m. to the intersection of Atlantic and Florence avenues (map), said Battalion Chief Mitchell Brown of the Los Angeles County Fire Department.
The bus, which had been traveling eastbound on Florence, came to a stop on the sidewalk just east of Atlantic.
Eight ambulances were called to the scene and transported the injured to hospitals, Brown said. Some of the victims were wearing neck braces as they were put on gurneys and loaded into the emergency vehicles.
The impact of the crash sheared the pole and shattered the bus's windshield, news video showed.
L.A. County Sheriff's Department and Metropolitan Transportation Authority officials are investigating the cause of the incident.