This is an archived article and the information in the article may be outdated. Please look at the time stamp on the story to see when it was last updated.
Local transportation officials Thursday are to accept a $670 million federal grant for a downtown rail project designed to seamlessly connect three of Los Angeles County's furthest-reaching light-rail lines.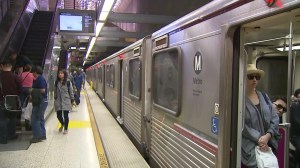 When the Downtown Regional Connector opens, slated for 2020, the Metro Blue, Gold and Expo lines will all run between the 7th/Metro stop and Union Station. Passengers will be able to travel from Long Beach to Pasadena, or East Los Angeles to Santa Monica, without changing trains. Any end-to-end light-rail trip in Los Angeles County currently requires two transfers.
Los Angeles Mayor Eric Garcetti said in an interview Wednesday that he was pleased that the Federal Transit Administration had signed off on the $1.36-billion project. The connector and the Westside subway extension were the two projects Garcetti discussed when he met with Transportation Secretary Anthony Foxx in October.
Included in the project will be three new train stations in downtown Los Angeles: 1st Street and Central Avenue, 2nd Street and Broadway, and 2nd and Hope streets. The rail system will likely see other upgrades as well, including Wi-Fi and a feature telling passengers when the next train is to arrive.
Click here to read the full story from LATimes.com.