This is an archived article and the information in the article may be outdated. Please look at the time stamp on the story to see when it was last updated.
A missing poodle-mix named Frida was returned to her owners Monday, three weeks after she disappeared from her home and began a bizarre lost-and-found odyssey.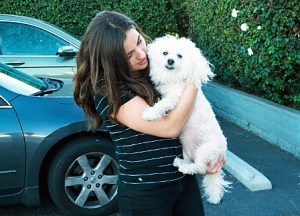 Frida wandered away from the family's Mid-City area home two days before Christmas. The Tung family plastered the neighborhood with fliers looking for the dog.
Then last week, a woman brought Frida to the Animal Medical Center in Van Nuys where the veterinarian found a microchip locator.
On Monday, the Tung family told KTLA they received an anonymous call from a man who said he dropped Frida off at another animal clinic.
And this time, Frida was there waiting for her family.