This is an archived article and the information in the article may be outdated. Please look at the time stamp on the story to see when it was last updated.
Two years after Fox executive Gavin Smith mysteriously disappeared, the missing man has formally been declared dead, officials said.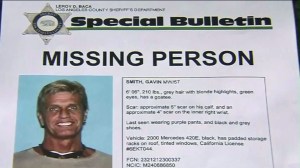 Sheriff's officials said a public death certificate has been issued for Smith, dated May 1, 2012.
In the two years since Smith vanished, detectives had said they had significant evidence that he was killed, but the case remained unresolved.
"We have physical evidence of his death," Bill McSweeney, sheriff's chief of the detective bureau, said Thursday. Smith's body, though, has never been found, he said.