This is an archived article and the information in the article may be outdated. Please look at the time stamp on the story to see when it was last updated.
One dad may have just launched himself light-years ahead of all the others in the Father of the Year category.
Do-it-yourself expert Jeff Highsmith has created an amazing NASA-themed desk for his oldest son.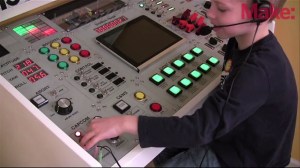 The desk includes dozens of buttons, knobs, switches and more than 500 LED lights, allowing his son to blast off homework boredom.
The one-of-a-kind control console closes up and works as a regular homework desk when it's not in use.
The desk also incorporated an iPad with real audio clips from the Apollo 11 Mission.