This is an archived article and the information in the article may be outdated. Please look at the time stamp on the story to see when it was last updated.
It was one of the worst calls a police officer can ever get – race with lights and sirens to a home because a woman says she has drowned her two little girls.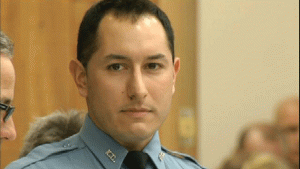 When KCK Police Officer Eric Ibanez raced through the open door, he was faced with the most disturbing scene in his nearly 11 years with the department. A mother was near her two lifeless daughters, who were soaked.
In fact, the initial first responders thought at least one of the little girls would die.
But they didn't in large part because Ibanez jumped into action and began performing life-saving measures on both children who weren't breathing.
"I rushed over to them and did what I could," Ibanez said. "I'm not real familiar on how to give CRP to infants and children but I did what I could for them and it worked out OK."
The then 4-year-old and 20-month-old were rushed to the hospital where Ibanez kept in touch with their progress. He said they deserve a full quality of life.
"My focus was to help the children. I'm really happy they pulled through," he said. "It didn't sound like it was going to work out as well as it did."
Their mother, Johnna Marie Green, 24, admitted to trying to kill her daughters and was sentenced to nearly 10 years in prison. Green was calm when he arrived, Ibanez said, adding she didn't interfere in his life-saving efforts but he kept an eye on her while focusing on the girls.
"I did what I could," he modestly said. "I feel really good. I'm satisfied with the outcome."
Ibanez received a standing ovation when he was recognized Thursday night in the KCK Police Department's annual ceremony to honor police officers and citizens for commendable efforts.
Two other officers were honored for taking a suicidal man into custody. The man was wielding a sword.