This is an archived article and the information in the article may be outdated. Please look at the time stamp on the story to see when it was last updated.
Sport Chalet announced on Saturday it has stopped online sales and is in the process of closing all of its locations, including dozens of stores in California, the retailer announced in a statement posted online.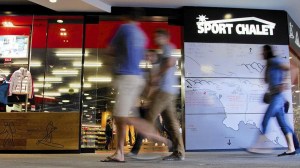 All Sport Chalet stores will remain open for "several weeks," offering customers the opportunity to use their remaining rewards and gift cards, the company said. A final closing date was not immediately provided.
It also sent out an email to Sport Chalet customers, informing them of the imminent closures.
The sporting goods chain has about 40 stores in California, including nearly three dozen in the southern part of the state. Other locations include Arizona and Nevada.
Gift cards, reward certificates and store credits will be honored at the chain's locations through April 29, the statement said. Customers who can't get to a store by then can transfer gift card balances to Eastern Mountain Sports or Bob's Stores, which are the retailer's sister stores.
Anyone who has left sporting equipment at a location for repairs is asked to pick it up before April 29. Rental equipment is also due back the same day.
Sport Chalet, which was founded 57 years ago in La Cañada Flintridge, was sold to Connecticut-based Vestis Retail Group back in 2014, according to the Los Angeles Times.
The sale came about three months after the company lost $10 million on revenue of $344 million in fiscal year 2014, the Times reported. At that point, the company hadn't made an annual profit in approximately seven years.
Bloomberg reported last week that Vestis Retail Group was exploring a bankruptcy filing.