This is an archived article and the information in the article may be outdated. Please look at the time stamp on the story to see when it was last updated.
A Monrovia man was in custody Wednesday on suspicion of calling police to say he would shoot people with an AK-47 assault rifle in a series of phoned threats made against San Gabriel Valley schools, a hospital and a shopping mall last week, authorities said.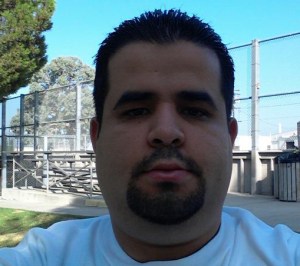 Gerardo Cortez, 26, was booked on five felony counts of making criminal threats and five counts of false report of an emergency, authorities said.
He was being held Wednesday at the Monrovia Police Department's jail following his 4 p.m. Tuesday arrest at his home in Monrovia.
Cortez's bail was initially set at $250,000. He was expected to appear in Pasadena Superior Court on Thursday.
Monrovia police planned to present the case — the result of a five-agency investigation that involved the FBI — to the Los Angeles County District Attorney's Office.
"The nature of these criminal threats brought tremendous fear to students, faculty, parents, patients, and the community," stated a news release issued on behalf of the five agencies involved. "It also drew a significant amount of policing resources away from other legitimate purposes."
One of the first instances was a threat made to Monrovia police against Santa Fe Middle School on Sept. 9, when an anonymous male caller told police he was on campus with a AK-47 assault rifle. No threat was found after the school was locked down and students were escorted off campus as police searched classroom by classroom.
Student Kasie Herring said she did "homework and stuff" and was "panicking" during the four-hour lockdown.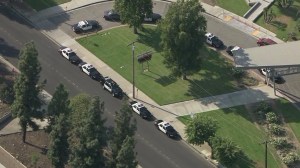 Another student, Johnnesha Williams, said her parents were "scared" during the incident. "They were crying," she said. "They wanted me to come home," which she was initially unable to do while a shelter-in-place order was in effect.
Earlier that day, threats had been made against a medical center that prompted lockdowns at several San Gabriel Valley facilities.
And on Sept. 10, two neighboring Duarte schools were locked down after a phone threat that also turned out to be false. Earlier that day, Santa Anita Mall in Arcadia had been locked down following a similar threat.
Arcadia High School was threatened and locked down on Sept. 12.
The FBI joined the investigation last week because the threats spanned several jurisdictions, a bureau spokeswoman told the Los Angeles Times.
A motive in the case was not immediately known, authorities said.