This is an archived article and the information in the article may be outdated. Please look at the time stamp on the story to see when it was last updated.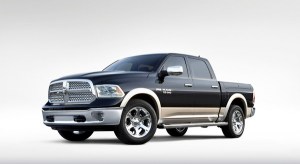 Chrysler Group will recall more than 200,000 of its vehicles, including its Ram pickup truck, Dodge Challengers and Chargers and Jeep Liberty and Patriots for a variety of problems.
In the biggest recall, the automaker will inspect and fix about 120,000 Chrysler 300s, and Dodge Challenger and Chargers sedans from the 2011 and 2012 model years because of an airbag problem.
The wrong-sized crimps were used in building the airbag wiring harness, and that can can cause the airbag warning light to illuminate.
Chrysler also will recall 61,409 Dodge Nitro and Jeep Liberty sport-utility vehicles from the 2008 model year, and in the case of the Nitro, some 2007s because a part in the autos can drop onto the drive shaft, causing it to break.
If this happens, the vehicle will lose power suddenly, and it is possible that the side airbags will deploy.
That force of the drive shaft breaking can trick the computer module that controls the airbags into thinking that the vehicle is in a "severe" crash, according to Chrysler.
The automaker said it is not aware of any accidents or injuries being caused by the problem.
In another recall, Chrysler will bring back 20,532 Jeep Patriot and Compass SUVs from the 2012 model year because of fuel tank problem that can interrupt the flow of gasoline and cause the SUVs to stall.
The problem was caused when improperly formed nylon tubes that route fuel within the tank were used in the assembly of the vehicles.
Chrysler said it knows of one accident caused by the problem but that there were no injuries.
The automaker is recalling about 6,500 Dodge Ram pickup trucks from the 2013 model year because of a parking brake problem.
A cable in the parking brake system was not set properly and won't hold the truck on a 20% grade, which is required by safety regulations.
The problem was discovered by an accountant auditing production at Chrysler's truck factory.
The company said it is unaware of any accidents or injuries resulting from brake failing in that situation.
Chrysler also is recalling a small but yet-to-be-determined number of 2013 Dodge Darts because they were built with the wrong rear brake calipers and that could prevent the parking brake from working.
It appears that the wrong part was installed on just one day in November.
The factory discovered the problem but not before about 50 vehicles were shipped.
–Los Angeles Times