This is an archived article and the information in the article may be outdated. Please look at the time stamp on the story to see when it was last updated.
Police were searching Saturday for the driver of a vehicle involved in a hit-and-run near the Santa Monica Pier that left a mother dead and her daughter injured, authorities said.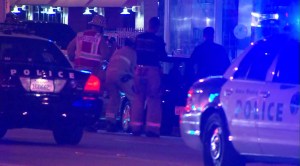 The hit-and-run occurred in the 1600 block of Ocean Avenue (map) around 1 a.m., according to a news release from the Santa Monica Police Department.
A 61-year-old mother was crossing the street with her 32-year-old daughter when they were hit by a vehicle traveling southbound on Ocean Avenue, according to the release.
The male driver fled the scene, police said.
The mother, who was a resident of Wisconsin, suffered major head trauma and was rushed to a local hospital where she was later pronounced dead, authorities said.
Her identity had not yet been released.
The daughter, who lives in Santa Monica, suffered minor injuries, police said.
The vehicle involved in the hit-and-run was described as a 2003 to 2007 gray Infiniti G35 sports coupe with tinted windows, and was being driven by a white male, according to police.
The front of the car was damaged in the crash, said Santa Monica police Sgt. Jay Moroso.
"Some glass particles, or something like that, was at the scene of the investigation," he said.
Authorities shut down the Ocean Avenue exit on State Route 1 while they investigated the collision, according to the release.
"It's very scary because you see, right now, it's so populated, there's so many tourists," said Bernatette Vrijlal, a frequent visitor to the area. "Even at night, I've been here and there's cars coming, there's people walking around, just checking out the area. So it's very surprising that this would happen."