This is an archived article and the information in the article may be outdated. Please look at the time stamp on the story to see when it was last updated.
During a high-risk C-section when giving birth to her premature son, tiny Jennifer Calderon lost 5 liters of blood — nearly her entire blood supply.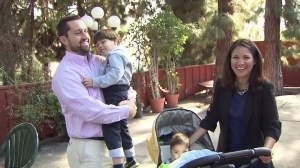 Just 5 feet tall, Calderon almost died after experiencing uterine hemorrhaging during the birth last April at Ronald Reagan UCLA Medical Center in West Los Angeles.
But thanks to blood and platelets donors and to her doctors, Calderon, 34, survived. She was in the hospital for 16 days, with two days in intensive care.
And on Friday she, her husband and their two sons got a rare chance to meet the donors whose contributions sustained Calderon.
"It's such a huge gift that … it doesn't seem like 'thank you' is enough," Calderon said.
Los Angeles-area residents Rich McAndrews, Mary Chuhinko, Ricardo Barboza and Linda Hashi were among the seven donors whose blood and platelets went to Calderon, according to UCLA. The donors are from a variety of ethnicities and range in age from 19 to 60, the university stated in a news release.
"It just goes with my ideals of being in the fire service, to go out and help those in need, whether it be a friend or a stranger," said Barboza, a deputy fire marshal at UCLA.
Most patients never learn the identity of their donors because of health confidentiality laws, but Friday's "reunion" was organized by the UCLA Blood & Platelet Center for Calderon and the donors.
The luncheon event was part of a salute to the center's donors. Palisades Charter High School was also set to be honored for collecting 875 units since January 2012, when students began participating in a program to recruit new donors and organize campus blood drives.
Those who want to donate blood or platelets should contact gotblood@ucla.edu or 310-825-0888, ext. 2, to schedule a donation. Donors must be 17 or older, 110 pounds or more and in good health.
KTLA's Melissa Pamer and Kareen Wynter contributed to this article.
Correction: An earlier version of this story gave the incorrect age range for the donor group, and incorrectly stated the number of days that Calderon spent in intensive care. The article has been updated.