This is an archived article and the information in the article may be outdated. Please look at the time stamp on the story to see when it was last updated.
A motorcyclist was killed after colliding with a Metro bus on Thursday night in Chatsworth.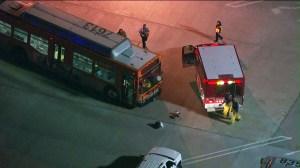 The crash was reported around 8:54 p.m. in the 21000 block of Nordhoff Street (map), according to Erik Scott with the Los Angeles Fire Department.
The motorcycle came into contact with the front of the bus, struck a pole and caught fire, Scott said.
The body of the man riding the motorcycle was covered with a sheet not far from the bus terminal, aerial video of the scene showed.
The bus driver suffered minor injuries and appeared to be visibly shaken as she was put onto a stretcher.
She was transported to a hospital in fair condition, Scott said.
The crash was still under investigation.