This is an archived article and the information in the article may be outdated. Please look at the time stamp on the story to see when it was last updated.
A motor home that was engulfed in flames Wednesday morning eventually sparked a house fire in a South Los Angeles neighborhood.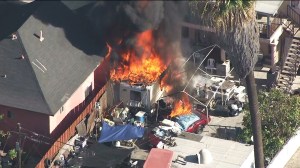 Firefighters responded to the blaze in the 400 block of East 25th Street (map) at about 9:12 a.m., according to Brian Humphrey of the Los Angeles Fire Department.
The RV, which was parked just a few feet from a home, was fully engulfed in flames when Sky5 arrived, aerial video showed.
Just moments later, the house and a car parked next to the motor home also caught fire, video showed.
More than 50 firefighters responded to the blaze, which was burning in the attic of the home, according to Humphrey.
"Our firefighters are going to get a real quick knockdown on this they're going to get inside this house and they're going to try and do everything they can to save that home," Fire Department Capt. Jaime Moore said.
Firefighters doused the flames in about 20 minutes and contained the damage to the home's attic, according to Humphrey.
It was unclear if anyone was inside the home or the RV when the fire started.
"That's one of the most important things we want to do, we want to save anyone's life that's in potential danger," Moore said.
Three people were displaced due to the fire, but no injuries were reported, Humphrey later confirmed.
The cause of the fire was under investigation.