This is an archived article and the information in the article may be outdated. Please look at the time stamp on the story to see when it was last updated.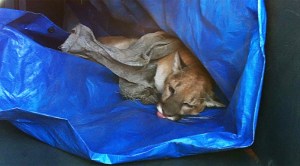 SANTA BARBARA —  California Department of Fish and Wildlife officers were called in to capture a mountain lion in a Southern California backyard on Monday.
The big cat was reported in a heavily wooded backyard of a home bordering the Santa Barbara Golf Club, two blocks north of U.S. Highway 101.
Wildlife officers determined the lion was not in a place where it could be chased it back into the wild without taking action.
A plan was formulated to tranquilize the animal and return it to open space; there were no plans to destroy the animal.
About 12:30 p.m., wildlife officers successfully used a tranquilizer gun to immobilize the cat and secure it for evaluation and transportation.
The cat is a young, male lion, about 100 pounds and appears to be healthy.
Officers took the animal to Los Padres National Forest for release.
A nearby elementary school was notified as a precaution, but was not locked down or evacuated.