This is an archived article and the information in the article may be outdated. Please look at the time stamp on the story to see when it was last updated.
What began as an unlawful assembly during a spring break party Saturday night in Santa Barbara quickly became an emergency situation, leaving multiple sheriff's deputies injured, more than 100 arrested and many transported to the hospital, according to authorities.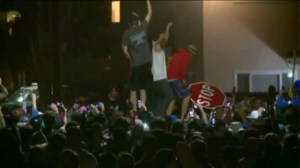 Around 15,000 people attended Deltopia, a spring break party in Isla Vista, near the University of California, Santa Barbara campus, according to a Santa Barbara County Sheriff's Office news release.
A major disturbance broke out in the 6700 block of Del Playa Drive (map) when a UCSB police officer was hit in the head with a backpack containing large bottles of alcohol, the release stated.
"It knocked him down, split his forehead open to the point that he needed extensive suturing," Santa Barbara County Sheriff Bill Brown told KTLA.
During an arrest a large crowd spanning several blocks threw objects at law enforcement personnel, that included rocks, bricks and bottles.
An unlawful assembly was declared then escalated into a major disturbance, emergency situation and law enforcement from Santa Barbara and Ventura County came to assist the Santa Barbara County Sheriff's Office, the release stated.
Chemical agents were one of the methods used to control crowds that included individuals ripping stop signs, lighting several small fires and damaging other property, including several law enforcement vehicles, the release stated.
After several hours law enforcement was able to disperse the crowd.
Some UC Santa Barbara students blamed the mayhem on visitors who do not attend the university.
"It's people who don't go here, and just come to party and drink," one student said.
At least five sheriff's deputies were injured, more than 100 people arrested and at least 44 people were transported to the hospital throughout the course of the day and evening, according to the release.
Brown said the situation could have been much worse if deputies had not acted quickly.
"There could've been, potentially, loss of life, many more injuries much more property damage," the sheriff said.