This is an archived article and the information in the article may be outdated. Please look at the time stamp on the story to see when it was last updated.
WASHINGTON —  The death toll from the violence engulfing Egypt rose Thursday to more than 600, as supporters of ousted President Mohamed Morsi vowed to continue their protests despite a crackdown by the military-backed government.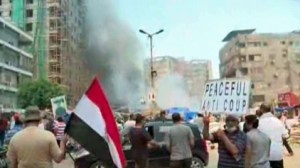 At least 638 people were killed and 3,994 injured in clashes ignited Wednesday when security forces broke up two sit-ins by protesters loyal to Morsi and his Muslim Brotherhood, according to a Health Ministry official quoted by Egypt's Al Ahram newspaper. The dead, mostly Morsi supporters, include at least 43 police officers.
The bloodshed stunned world leaders. President Obama on Thursday canceled a joint military exercise with Egypt and said he was ordering a review of other steps the United States might take.
The Muslim Brotherhood, which claimed more than 2,000 people had died nationwide after police stormed two pro-Morsi sit-ins in Cairo, vowed to continue protesting until the former president is reinstated.
Click here to read the full story on LATimes.com.