This is an archived article and the information in the article may be outdated. Please look at the time stamp on the story to see when it was last updated.
A woman who says she was being recorded as she used a bathroom at a Dollar Tree discount store in East Los Angeles spoke out Wednesday saying her "heart dropped" when she made the discovery.
Alexandria Sabori was shopping at the Dollar Tree store on Whittier Boulevard on Sept. 7 when she asked the to use the restroom, but was told to wait by an employee, according to a news release from her attorney Patrick Nolan.
"Let me check that there's toilet paper and let me check that it's nice and clean," Sabori says the employee told her before letting her in the restroom.
While using the restroom, Sabori says she noticed a cardboard box with a hole in it.
"I was very curious to see what was in the box. Why was there a hole in the box?" Sabori said.
Upon discovering an iPhone pressed up to the hole inside the box was recording video, Sabori said "my heart dropped."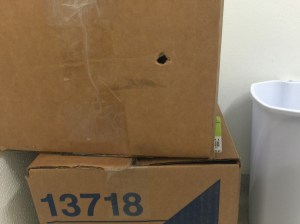 She took the phone and asked to see a manager, but left the store and contacted authorities when the same man who escorted her to the bathroom said he was the manager.
Deputies arrived and arrested the man, who was identified as Carlos Martinez, according to Joe Gonzalez with the Los Angeles County Sheriff's Department.
Sabori was shopping with her sister and 10-year-old niece, who she says was next in line to use the restroom.
"This could've been my niece instead of me," said Sabori, who came forward in hopes of warning others.
Another shopper contacted KTLA Wednesday saying the man had said similar things to her, her daughter and family friends.
"And each time he would say, 'oh I have to check and make sure there's toilet paper' or 'I have to check and make sure it's not wet,' and then after he came out he would let us enter," Ternesha Peoples said.
Anyone who thinks they may have been victimized at the store was asked to contact DeWitt Algorri & Algorri at 626-568-4000.
KTLA's Jennifer Thang and Ashley Soley-Cerro contributed to this report.