This is an archived article and the information in the article may be outdated. Please look at the time stamp on the story to see when it was last updated.
A naked man went berserk Tuesday afternoon at an intersection on Pacific Coast Highway in Santa Monica.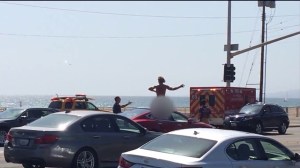 The incident was captured on video by Teddy Bliss who told KTLA it all started when a man driving a Tesla stopped in the middle of the PCH and jumped out of the car.
Bliss said the man began running around waving his shirt and jumping on the roof of the car.
Police finally arrived and were able to get the man into a ambulance, Bliss told KTLA.
This video aired on the KTLA 5 News at 10 on Wednesday, April 23, 2014.
The video was provided by Teddy Bliss https://www.youtube.com/watch?v=bZT_jrw7_3I.