This is an archived article and the information in the article may be outdated. Please look at the time stamp on the story to see when it was last updated.
NASA confirmed Thursday that after 36 years of space travel and months of heated debate among scientists, Voyager 1 has indeed left our solar system and had entered interstellar space more than a year ago.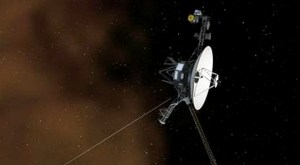 "Voyager has boldly gone where no probe has gone before, marking one of the most significant technological achievements in the annals of the history of science," said John Grunsfeld, NASA's associate administrator for the Science Mission Directorate.
At a Thursday news conference in Washington, D.C., officials said the belated confirmation was based on new "key" evidence involving space plasma density. The evidence was outlined in a paper published online Thursday in the journal Science.
Lead author Don Gurnett, a University of Iowa plasma physicist and a Voyager project scientist, said the data showed conclusively that Voyager 1 had exited the heliopause — the bubble of hot, energetic particles that surrounds our sun and planets — and entered into a region of cold, dark space called the interstellar medium.
Click here to read the full story at LATimes.com.