This is an archived article and the information in the article may be outdated. Please look at the time stamp on the story to see when it was last updated.
A rollover crash in Pacific Palisades Tuesday night left one person dead and two injured, including pro golfer Bill Haas, according to authorities.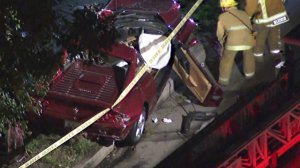 The crash involved a Ferrari and a BMW in the 500 block of North Chautauqua Boulevard and was reported at about 6:30 p.m., Los Angeles County fire officials said. The driver of the Ferrari, who was identified by a coroner's official Wednesday as 71-year-old Mark Gibello, was pronounced dead at the scene while two others were taken to a nearby hospital in serious condition.
Those injured include a 50-year-old woman and 35-year-old man, officials said.
The injured man, a passenger in the Ferrari, is pro golfer Bill Haas, Los Angeles Police Department Detective Jeff Fischer told KTLA. Haas is in town for the Genesis Open golf tournament at the Riviera Country Club in Pacific Palisades, according to Golf Digest.
While Haas and the unidentified woman were said by fire officials to be seriously injured in the moments after the crash, Fischer said he's gotten word that Haas is "doing okay."
He was released from the hospital, the PGA Tour said in a statement Wednesday. He has withdrawn from the tournament and is headed back to his home in South Carolina.
"While Bill escaped serious injuries and has been released from the hospital, he is understandably shaken up and – more importantly – his deepest condolences go out to the host family during this tragic and difficult time," the statement read.
Aside from the two vehicles directly involved, another Toyota SUV was sideswiped by the Ferrari just before the crash. It's owned by actor Luke Wilson, Fischer said.
"His vehicle basically just got clipped by the Ferrari," he said.
KTLA's Nidia Becerra contributed to this article.