This is an archived article and the information in the article may be outdated. Please look at the time stamp on the story to see when it was last updated.
A federal affidavit released Wednesday revealed details of an 11-year-old Navajo girl's kidnapping and violent death in New Mexico, according to the Associated Press.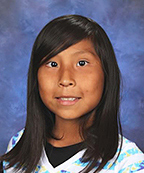 Ashlynne Mike's body was found Tuesday, the day after she and her 9-year-old brother, Ian, were abducted near their home in Fruitland, authorities said. The girl's head was bloodied and bashed with a crowbar, the AP reported, citing the affidavit.
She had been lured into a van by a stranger with a promise of watching a movie, and her brother then jumped into the vehicle in an attempt to protect her, the according to the news agency. After the man drove the boy toward a highway and told him to get out, the 9-year-old began running and was picked up by a passerby.
"He was so tired and just crying and crying for his sister. It was really hard for the FBI to get any information from him," said the children's aunt, Darrell Foster-Joe.
A man was arrested by the FBI on Tuesday evening in connection with the case. The agency identified him as 27-year-old Tom Begaye.
Begaye told investigators he removed the girl's clothes, preparing to sexually assault her, and that he struck her twice in the head with the crowbar because she was crying and pleading with him to take her home, the AP reported, citing the affidavit. He said the child was still moving when he left her for dead in the desert, according to the document.
The suspect appeared in U.S. Magistrate court Wednesday on charges of kidnapping and murder. He faces life in prison if convicted of as charged.
Ashlynne's body was found early Tuesday more than 20 miles away near Shiprock Monument, the FBI told CNN.
Both she and her brother are members of the Navajo nation.
The children's parents filed missing persons reports with police early Monday evening, the Navajo Nation said. Later that evening, a motorist picked up Ian Mike, who was walking along Navajo Route 13.
Update – mugshot of Tom Begaye, man accused of killing 11-year-old girl on Navajo Nation #12News pic.twitter.com/JUfEhISih5

— Matt Mauro (@mattmauronews) May 4, 2016
"Ian Mike told Shiprock Police that the driver who abducted the two children had taken them toward the Shiprock pinnacle where he came upon a dead end road and let the boy out. The abductor returned without Ashlynne Mike and told the young boy to go home," a Navajo Nation press release said.
Ojo Amarillo Elementary, where Ashlynne attended, released a statement expressing "great sadness," and asking parents to help increase security.
"Our hearts are broken. Our students are family … I also ask our parents and staff to tell their children how much they love them," Superintendent Dr. Colleen Bowman said.
"In light of this incident, we are asking our parents to be with their children when their school bus picks up and drops them off to help ensure their safety."
New Mexico Gov. Susana Martinez called the killing a "horrible, horrible tragedy," CNN affiliate KOAT reports.
A multiagency task force, including the FBI, the Navajo Nation Division of Public Safety, New Mexico State Police, San Juan County Sheriff's Office, Farmington Police Department and the U.S. Marshals Service, participated in the investigation.
CNN Wire contributed to this report.