This is an archived article and the information in the article may be outdated. Please look at the time stamp on the story to see when it was last updated.
An 11-year-old Utah boy has worked to raise money to fly his biological mother and sister from Alabama to the Beehive State and plans to see them in person for the first time since he was adopted.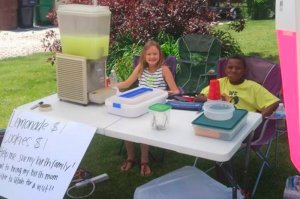 Christian Gilbert was adopted as a 1-year-old, and while his parents were discussing how to pay for a visit to or from his birth family members, he decided he wanted to help pay for it by having a lemonade stand, according to his dad, Marcus Gilbert.
Between the three lemonade stands Christian has held and a GoFundMe account, the young businessman has raised nearly $800. His dad said he probably needs about $300 more for the plane tickets.
"He originally just wanted to help pay for it, but now he wants to pay for the entire trip and take them to Lagoon when they are here," Marcus Gilbert said. "The kid has big ideas."
The Gilbert's are hoping Christian's biological mother and sister will visit Utah at the end of July. Christian's parents are supportive of him spending time with his birth family members.
"It's hard to imagine what it's like being adopted knowing that you have another family that you don't know and you have these people that you're connected to but you know nothing about," Marcus Gilbert said. "And it's hard for me to wrap my brain around what that must be like for him. So we decided from a very young age … to just be as open as we could about everything and to let him have contact with them."
Christian has kept in contact with his biological family. His dad said they stream his basketball games on Facebook so his birth mom can watch them.
As far as the activities he will do with his biological family members, he has a lot of ideas, Marcus Gilbert said.
"We're going to let him choose the activities. He wants to just take them to see everything that makes him him," Marcus Gilbert said. "He loves hiking, so he wants to take them up hiking on some of his favorite trails up above Ogden, and he wants to go up to Pineview Dam and go swimming, and he wants to go to Lagoon, and he's got lots of big ideas. So we're going to see what we can fit in and we're going to let him choose the activities, and that's what we'll do."