This is an archived article and the information in the article may be outdated. Please look at the time stamp on the story to see when it was last updated.
At night after residents in the Rancho Cordova neighborhood of Sacramento had gone to bed, he would open the kitchen or sliding glass door and quietly strike.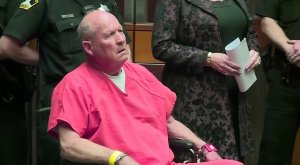 As he entered, he made sure to first plot out his escape, and then often headed for the bedroom — where he would linger and watch unsuspecting homeowners sleep. Along the way, he'd grab purses and wallets and sometimes seek out special trinkets like coin collections, car magnets and photos of female residents.
In 1972 and 1973, in this eastern part of Sacramento, this prolific cat burglar struck more than 30 times.
Now decades later, investigators are increasingly convinced Joseph James DeAngelo Jr., who has been charged with eight murders across the state, was this cat burglar. They believe this is where the man they now accuse of being the prolific Golden State Killer got his start, graduating over the next 14 years to increasingly violent and ultimately deadly crimes.
Read the full story on LATimes.com.