This is an archived article and the information in the article may be outdated. Please look at the time stamp on the story to see when it was last updated.
Editor's note: A powerful 7.1 earthquake jolted Mexico City on Tuesday, seriously damaging buildings and sending people fleeing into the streets on the anniversary of a 1985 quake that did major damage to the capital. This is the Los Angeles Times' story from Sept. 19, 1985: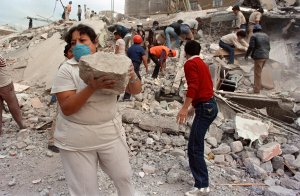 A major earthquake struck off the southwest coast of Mexico today, collapsing buildings as far inland as Mexico City 250 miles away and causing severe damage there and in at least three Mexican states. Death reports ranged to 1,000 or more and the capital was in chaos.
Damage was reported heavy in the Mexican capital, the most populous urban area in the world, with hospitals and hotels among the casualties. Cathedrals collapsed in Jalisco, Guerrero and Michoacan states, all on the country's west coast.
In Mexico City several buildings toppled as the 7.8 quake hit at 7:18 a.m., the height of the morning rush hour.
Amid fires and panic, a state of emergency was declared and President Miguel de la Madrid appealed for calm over the radio.
Read the full story on LATimes.com.