This is an archived article and the information in the article may be outdated. Please look at the time stamp on the story to see when it was last updated.
Two plainclothes New York City police officers, responding to a robbery, were shot late Monday night in the Bronx, but both men are expected to survive.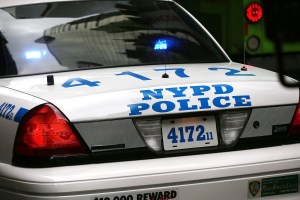 One 30-year-old officer, shot in the arm and lower back, was undergoing surgery and in critical condition early Tuesday morning. A 38-year-old officer, shot in the chest and arm, was in stable condition.
Their names are being withheld until their family members can be notified.
"This is another indicator of the dangers our officers face in the line of duty," New York City Mayor Bill de Blasio said. "Thank God, these officers will recover."
'Extraordinarily brave'
The officers were near the end of their shift when a call came in about an armed robbery at a grocery store about 10 minutes earlier. The pair, along with three other plainclothes officers, ran to the scene.
"These officers did something that was extraordinarily brave, and they did it as part of their commitment," de Blasio said. "They came off their shift. Upon hearing this call, they went back out in search of these criminals."
They spotted two men who were the suspected robbers, based on descriptions called in to police. One went inside a Chinese restaurant; the other stayed on the street, where two officers approached him.
When the other officers identified themselves, the man inside the restaurant came out and began firing, according to police. The officers returned fire, with two of them shot in the exchange.
Police Commissioner William Bratton said that one of the suspects may have been struck as well. Still, both managed to get away — fleeing on foot for one block, where they carjacked a white Camaro.
The car was later found abandoned, along with a black revolver. As of Tuesday morning, the two suspects were apparently still at large.
'Rough neighborhood'
Sometime after the shooting, a man checked himself into an area hospital with a gunshot wound to the back. Police are trying to see if he is connected to the shooting, and they aren't calling him a suspect.
A $10,000 reward is being offered for information that will lead to the shooters' arrest and conviction.
"This was a rough neighborhood in the '90s, and it still is today," said John Cardillo, who patrolled the area when he was a police officer. "Robberies were common when I worked there, and there were many shootings. Armed bad guys with the propensity to shoot someone."
Grappling with loss
The Police Department is still grappling with the loss of two officers who were killed as they sat in their squad car last month.
The deaths of Officers Rafael Ramos and Wenjian Liu also stirred a rift between many rank-and-file officers and Mayor de Blasio.
Some officers have accused the mayor of encouraging anti-police fervor because of his support of protests against police brutality. Tens of thousands had taken to the streets after the death of African-American Eric Garner during an encounter with white NYPD officers in July.
At the funerals for Ramos and Liu, many turned their backs as de Blasio spoke.
Two NYPD Officers have been shot in the 46 Pct. Please pray for them.

— NYPD 121st Precinct (@NYPD121Pct) January 6, 2015