This is an archived article and the information in the article may be outdated. Please look at the time stamp on the story to see when it was last updated.
A 23-year-old man is among multiple people who have not been heard from in the aftermath of a catastrophic building explosion and fire that injured at least 25 people and reduced multiple buildings to smoldering piles of rubble by Friday morning, KTLA sister station WPIX reported.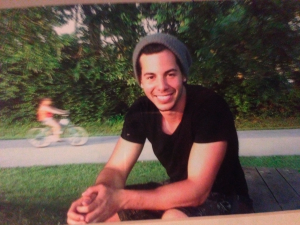 Nicholas Figueroa was eating at Sushi Park, the ground floor tenant of 121 Second Ave., when it was rocked by the explosion Thursday afternoon, Figueroa's family told the New York Times.
According to the NYPD Detective Bureau, Figueroa and one other person remain unaccounted for. Anyone who suspects they know someone who is missing or anyone who sees Figueroa is urged to call 311.
Mayor Bill de Blasio said the blast appears to be tied to plumbing and gas work at the building that housed the sushi restaurant below and several residences above. A spokesman for Con Edison said it stopped plumbers working Thursday at 121 Second Ave. because they failed the utility's inspection. About an hour later at 3:17 p.m., the building exploded. There is no record of calls reporting the smell of gas in the area, de Blasio said.
Twenty civilians were hurt in the blast, four of them critically, the mayor's office said in a Friday morning update. Four firefighters and an EMS worker suffered minor injuries, officials said.
In all, four buildings straddling Seventh Street and Second Avenue collapsed or were damaged in the blast. One of those collapsed buildings fell overnight, hours after the initial explosion, officials said.
119 Second Ave.: Collapsed
121 Second Ave.: Collapsed
123 Second Ave.: Partially collapsed
125 Second Ave.: Damaged
Witnesses described "pandemonium," with residents scurrying down fire escapes and pedestrians darting from the sidewalks around the building as the block was rocked by the blast that was followed by flames shooting into the sky.
"The whole storefront came out of the building. It's on the street, all over," a said Ataur Rahman, who works at Dallas BBQ.
Early Friday, dump trucks were shuttling from the blast site carrying loads of debris.
Eleven buildings were evacuated after the blast, including 144 residential units, the mayor's office said.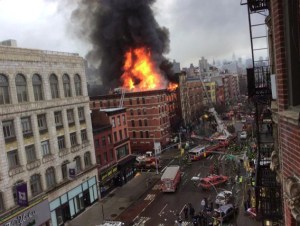 Displaced residents — 84 people checked in and 30 stayed overnight — took advantage of a Red Cross shelter set up at P.S. 63, but that shelter was relocated Friday to let children back into class. The new shelter was open at 8 a.m. at Tompkins Square Branch Library, located at 331 East 10th St.
The neighborhood will remain unsettled for several more days while the investigation and cleanup continue.
Pedestrians are barred Friday from walking along Second Avenue between East Sixth and East Ninth streets, the mayor's office said. No cars are permitted to along Second Avenue between Sixth and 11th streets.
Smoke lingered in the air for blocks surrounding the blast site, affecting air quality for a brief period of time Thursday afternoon. The city's health department said air quality is no longer an issue and it is not necessary to wear respirators or surgical masks when in the neighborhood.
While the exact cause of the blast is not yet known, de Blasio urged the public to call 911 or Con Edison at 1-800-75-CONED if they smell natural gas, which has an odor akin to rotten eggs.
This story was originally published on KTLA sister station WPIX in New York.