This is an archived article and the information in the article may be outdated. Please look at the time stamp on the story to see when it was last updated.
Full coverage: 3 Dead, More Than 30 Injured Following White Nationalist Rally in Virginia
Two state troopers were killed in a helicopter crash near Charlottesville, the Virginia town where at least one person died and dozens were injured following a white nationalist rally there Saturday, state police said.
A Virginia State Police helicopter crashed into a wooded area near Charlottesville at about 2 p.m. PDT just as the city saw violent clashes involving white nationalists, neo-Nazi activists and counterprotesters at a rally on Saturday.
The helicopter "was assisting public safety resources with the ongoing situation in Charlottesville," state police said in a press release.
The two men who died have been identified as Lt. H. Jay Cullen of Midlothian, Virginia and Trooper-Pilot Berke M.M. Bates of Quinton, Virginia, state police said.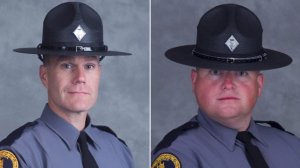 Both died at the scene, police said.
Virginia Gov. Terry McAuliffe and said the two fallen troopers were "close friends" of his and the state's first lady.
"Jay has flown us across the commonwealth for more than three and a half years," McAuliffe said in a statement. "Berke was devoted to our entire family as part of our Executive Protective Unit team for the past three years,."
"This is a devastating loss for their families, the Virginia State Police, and the entire commonwealth," he said. "Our hearts go out to their wives and children, and we stand by to support them during this difficult time. These heroes were a part of our family and we are simply heartbroken."
Col. W. Steven Flaherty, who is Virginia State Police superintendent, also mourned the loss of Berke and Jay in a statement from the Virginia State Police.
"Our state police and law enforcement family at-large are mourning this tragic outcome to an already challenging day," Flaherty said.
"Lieutenant Cullen was a highly-respected professional aviator and Trooper-Pilot Bates was a welcome addition to the Aviation Unit, after a distinguished assignment as a special agent with our Bureau of Criminal Investigation," Flaherty said. "Their deaths are a tremendous loss to our agency and the Commonwealth."
The crash is still under investigation but there is "no indication of foul play being a factor in the crash," state police said.