This is an archived article and the information in the article may be outdated. Please look at the time stamp on the story to see when it was last updated.
Family members of Adrian Jones, a 7-year-old boy who was fed to pigs after being killed by his father and stepmother, have filed a $25 million wrongful death lawsuit against social service workers in Kansas and Missouri, KTLA sister station WDAF in Kansas City reported Friday.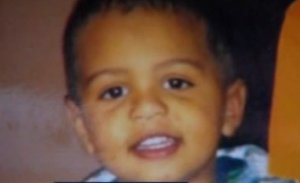 In the lawsuit, the boy's maternal grandmother, biological mother and oldest sister allege social workers failed to remove Adrian permanently from the home, even though they "meticulously investigated and carefully documented the abuse."
The lawsuit was filed this week in Jackson County, Missouri, and Wyandotte County, Kansas.
Adrian died at his Kansas City, Kansas, home in October 2015 after suffering horrific abuse and being tortured for months by Michael and Heather Jones, his father and stepmother.
"He passed away in his sleep, but it was from injuries that he had sustained from getting beaten," Heather Jones told WDAF.
The child "essentially starved to death," the Associated Press reported.
The remains of the little boy, who also went by A.J., were found by police on Nov. 25, 2015, one day before Thanksgiving. Officers responded to the home after Heather Jones called to report that she had been attacked by her husband, who also fired a gun at her, according to WDAF.
She told investigators that Michael Jones had killed his son, disposing of the body in a pig sty on the property. Though Adrian had been missing for about two months by then, no one reported his disappearance.
Thirty security cameras were set up in the family's home, and some of them captured videos of the abuse he suffered in his short life.
The victim's grandmother, Judy Conway, viewed some of the images and told the AP that the couple kept Adrian naked in a shower stall that they had modified so he was essentially trapped inside and couldn't escape.
Sometimes, they strapped the little boy to an inversion table; another time, he was made to stand overnight in a swimming pool, with water up to his neck, she said.
Conway added that the videos showed Jones occasionally using a broom handle to beat Adrian, and that alarms had been placed on the family's food so that the hungry child couldn't eat.
The grandmother said the images were so horrific when she first saw them that she "physically threw up."
"What they did to my grandson was beyond horrific," Conway said.
After his death, an investigation revealed that Adrian's file from the Missouri Department of Social Services was more than 400 pages long. The boy told social service workers he was being abused, and Michael and Heather Jones told the state they didn't want their son.
The father and stepmother were convicted of killing Adrian, and both were sentenced to life in prison.
The lawsuit alleges Adrian's death was "an entirely avoidable child-homicide," and that social workers generated stacks of reports chronicling the abuse over a period of several years.
"But their idea of intervention was limited, almost exclusively, to having A.J.'s father and stepmother sign a piece of paper agreeing to stop torturing the child — the legal equivalent of a 'pinky swear,'" the lawsuit stated. "As it turned out, that signed paper might as well have been A.J.'s death warrant."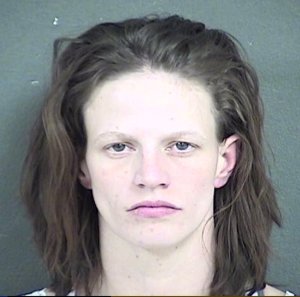 Prior to living in Kansas, the Joneses had lived in Plattsburg, Missouri, where Adrian's file from MDSS Children's Division showed the little boy had several visits with the department.
In one visit, according to the documents, a social services employee sat down with Adrian, who immediately told her his dad would beat him.
"Sometimes he kicks me on the back of my head and little bone come out," Adrian told the worker. "My daddy keeps hitting me in the head and punches me in the stomach and my mom keeps pulling on my ears and it really hurts."
The state documented that Adrian also told them Heather would throw him on the floor.
"She keeps being mean to me," Adrian told the employee.
During that interview, Adrian also said his parents would lock him in his room at night so he couldn't go into the kitchen and get food. According to the report, Adrian stated he was even locked inside a closet at times.
"Mommy and daddy can't feed me," he said. "I have to sleep without a pillow and blanket."
The record shows Adrian's parents arrived home in the middle of the interview, and the child changed his story, the worker reported.
When the state employee questioned Michael and Heather Jones about Adrian's statements, the couple denied any physical abuse, but admitted to locking Adrian in his bedroom, calling him "a problem child" and saying he had mental health issues. Heather said the little boy threatened to kill her and harm his sisters. Heather also said Adrian was hospitalized twice and that she was ordered by a physician to lock him in his room.
Later, a safety assessment marked Adrian as "unsafe" in four out of 11 categories, which included being in danger "because parent/caregiver's behavior is violent or out of control." The investigation found a "preponderance of evidence" that Adrian was the victim of neglect.
While Michael and Heather agreed to accept services from Missouri's child welfare system, within a few weeks, the couple began skipping appointments and was no longer cooperating.
The record shows the agency made multiple attempts to contact the family. When they finally reached the couple, Michael and Heather told them they were no longer living in Missouri and had moved to Kansas.
The investigation on the Missouri side was closed and Kansas was contacted.
The Kansas Department of Children and Families last contact was with the Joneses was in 2012, according to the agency.
Missouri child services records show they continued to get calls even after the family moved out of state. Adrian's case worker documented that she got ahold of Michael in February of 2014 after a hotline call came in saying the Joneses were still locking Adrian in his room.
The following month, MDSS contacted the family. While it's not clear where the Joneses were living at the time, a social worker documented she visited the home.
According to the record, Adrian showed the worker markings on his wrists. Adrian said the marks were from his dad taping his arms and legs for stealing and lying.
The worker documented, "Mike and Heather are done keeping him and staying with them is not an option."
"[I] explained to Mike that if they remove the child they will be faced with abandonment charges. Heather said they couldn't be charged due to their line of work."
Adrian remained in the home.
Then a couple weeks later, the social worker reported she received an email from a psychiatric hospital where Adrian was brought to.
Staff at the hospital reported they were concerned because Adrian had been there a few days and his parents never called to check on him.
"Heather stated, at that point, due to Adrian's behaviors, they were willing to take abandonment charges."
The hospital staff also said they did not notice any behaviors from Adrian and that he was an easy kid to work with. The staff alluded to the idea that Michael and Heather were the reason Adrian would act out.
Later, Michael Jones tried to say he and Heather were the victims, and that people would "get sucked into Adrian's plan." That's where the file ended.
KDCF head Phyllis Gilmore told WDAF in a statement Friday that the agency "thoroughly investigated" each reported incident of alleged abuse or neglect involving Adrian, though she said the family's frequently alternating residency between states "greatly disrupted continuity of services and evaluation."
Gilmore added that "when known," Kansas child welfare officials would share information about Adrian with their Missouri counterparts.