This is an archived article and the information in the article may be outdated. Please look at the time stamp on the story to see when it was last updated.
Four Mormon missionaries, three of them from Utah, were among the hundreds injured in the Tuesday's terror attacks in Brussels, the Church of Jesus Christ of Latter-day Saints announced.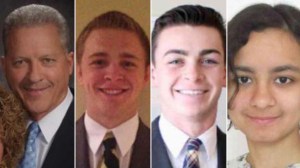 The church initially said three Utah men, based in Paris, were at the airport accompanying a fourth French missionary who was headed to Ohio when an explosion occurred.
That fourth missionary was also injured, the church later announced.
The missionaries were identified in a church news release as elders Richard Norby, 66, of Lehi; Joseph Empey, 20, of Santa Clara; and Mason Wells, 19, of Sandy; and Fanny Rachel Clain, 20, of Montélimar, France.
The church said the men were hospitalized did not describe the condition they were in. Clain had minor injuries.
Wells' parents spoke with him by phone from their home in Salt Lake City, Utah. Chad Wells said his son had undergone surgery to his Achilles tendon, and had suffered burns and shrapnel wounds.
"My heart goes out to those that received news that their son didn't survive, or their family member didn't survive," Chad Wells told KUTV. "I'm grateful that ours did."
The church's first presidency issued a statement on Tuesday's "heartbreaking news."
"Our prayers are with the families of the deceased and injured, including three of our missionaries who were injured and hospitalized. We also pray for the people of Belgium and France as they continue to deal with the uncertainty and devastation caused by the recent terrorist attacks," the statement read.
The three explosions that ripped through Brussels killed killed at least 30 people and wounded some 230 others.
KTLA's John A. Moreno contributed to this report.