This is an archived article and the information in the article may be outdated. Please look at the time stamp on the story to see when it was last updated.
Four Palestinians were killed and hundreds were wounded Friday in the West Bank and Gaza during clashes between Israeli troops and protesters opposed to President Donald Trump's recognition of Jerusalem as the capital of Israel.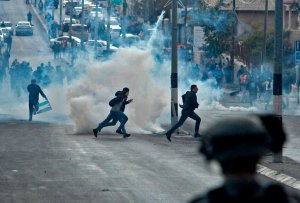 Roughly 2,500 Palestinians rolled burning tires and hurled firebombs and rocks at police in several West Bank cities, and another 3,500 clashed with soldiers along the security fence in Gaza, the Israeli army said.
Tens of thousands of worshippers came to the al-Aqsa mosque in Jerusalem's Old City for Friday prayers; hundreds stayed behind after prayers had finished to protest. Some waved the flags of countries most critical of Trump's announcement, among them those of Turkey and Malaysia.
The Palestinian Health Ministry identified two of the dead as Ibrahim Abu Tharaya, 29, fatally shot during clashes with the Israeli army along Gaza's border with Israel, and Yaser Sukar, 23, fatally shot in Shujaiyya, east of Gaza City.
Two more died in the West Bank, the ministry said. Basel Mustafa Muhammad Ibrahim, 29, from Anata, to the east of Jerusalem, and Mohammad Ameen Aqel, who was fatally wounded in the Ramallah neighborhood of al-Bireh.
Israeli police say Aqel was shot after carrying out a stabbing attack on a border police officer during a demonstration. Police also say Aqel was wearing what appeared to be an explosives belt.
At least 367 others were injured — seven critically –and taken to hospitals in the West Bank and Gaza, according to the health ministry.
Israeli forces used tear gas and rubber bullets to disperse demonstrators, and a military statement said live ammunition was used during what it called "violent riots" in some areas. The statement said troops "fired selectively towards [the] main instigators [of the disturbances]."
The situation around Gaza remained tense heading into the weekend, as Israel warned Gaza's Hamas leadership on Thursday that it would not tolerate continued rocket fire from the coastal enclave.
Since Trump's announcement over a week ago, 16 rockets have been fired from Gaza into Israel, Brig. Gen. Ronen Manelis told Israel's Army Radio on Thursday.
Manelis acknowledged that most of the rockets had not been fired by Hamas, but were in fact launched by smaller Islamist organizations. Israel has repeatedly said it holds Hamas responsible for any projectiles fired from Gaza.
Thousands of Jordanians also gathered to protest in downtown Amman, and local television aired live footage of smaller protests elsewhere in the country.
Trump's move last week to recognize Jerusalem as the capital of Israel and commit to moving the U.S. embassy to the holy city prompted international criticism and sparked protests across the world.
The announcement, which upended seven decades of U.S. foreign policy, delighted Israeli officials but was condemned by Palestinian leaders, who see East Jerusalem as the capital of a future Palestinian state.
Palestinian Foreign Minister Riad Malki told reporters last week that the leadership had decided there would be "no formal communications" with U.S. officials in the wake of Trump's Jerusalem decision.
Jordan's King Abdullah has also been critical of Trump's announcement, saying last week that there was "no alternative to a two-state solution, and Jerusalem is key to any peace agreement." Abdullah is the custodian of the Muslim holy sites in the Old City of Jerusalem.