This is an archived article and the information in the article may be outdated. Please look at the time stamp on the story to see when it was last updated.
A 5-year-old girl who was thrown from a Florida bridge on Thursday was alive before her father allegedly dropped her into the Tampa Bay, police said Friday.
While they offered no additional details, St. Petersburg, Florida, police released a statement on Friday saying "preliminary evidence" had confirmed that Phoebe Jonchuck was still alive when her father, John Jonchuck, dropped her from the Dick Misener Bridge during a confrontation with a police officer on Thursday morning.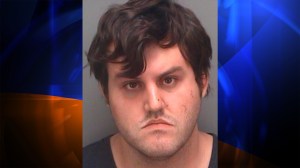 Jonchuck, 25, has been charged with first-degree murder and several other offenses. He has refused an attorney and has not spoken to police.
"I want to leave it in the hands of God," he told a judge on Thursday.
Click here to read the full story on LATimes.com.