This is an archived article and the information in the article may be outdated. Please look at the time stamp on the story to see when it was last updated.
Dozens of seahorses were seized at a Houston airport  recently after the tiny sea creatures were found hidden in the luggage of a passenger who was coming into the U.S. from Vietnam, authorities announced Thursday.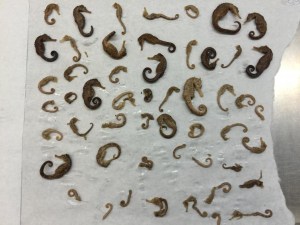 The traveler arrived at George Bush International Airport on March 1 and declared he did not have any agriculture-related items. But as agriculture specialists examined his luggage, the man admitted he had fish with him, U.S. Customs and Border Protection said in a news release.
While inspecting the luggage, agriculture specialists discovered 55 seahorses submerged in a liquid in a soft drink bottle that was wrapped in a white bag, the release stated.
Passengers are only allowed to carry up to four seahorses with them, the agency said, citing U.S. Fish and Wildlife Service.
"Seahorses are protected under the Convention on International Trade in Endangered Species of Wild Fauna and Flora … because they are over-harvested for aquarium trade and medical research," the release stated.
The seahorses were detained by the agriculture specialists so Fish and Wildlife officials could inspect them. All 55 were later seized because the passenger did not declare the seahorses and exceeded the permissible limit, according to authorities.
"Customs and Border Protection along with our partners at the Fish and Wildlife Service are committed to interrupting the international trafficking of protected and endangered species," CBP Port Director Charles Perez said in the release.
It was unclear whether the unnamed passenger was cited.