This is an archived article and the information in the article may be outdated. Please look at the time stamp on the story to see when it was last updated.
An Illinois man has placed 58 crosses, one in honor of each victim of Sunday's massacre, on the Las Vegas Boulevard.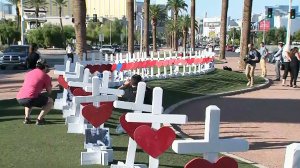 Greg Zanis, a retired carpenter, has installed similar markers at Columbine, Sandy Hook and at the site of the Orlando nightclub massacre, Las Vegas television station KVVU reported.
"This row of crosses will show the severity of what really happened there. More so than numbers and pictures in the paper," Zanis told KTLA sister station WGN in Chicago.
Zanis, who is from Aurora, intends to give the crosses to family members of the victims when his tribute comes to an end, KVVU reported.
He is hoping they will remain in place for 40 days.