This is an archived article and the information in the article may be outdated. Please look at the time stamp on the story to see when it was last updated.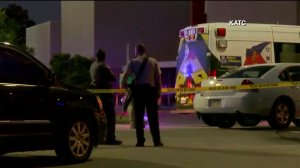 Three people were killed, including a 58-year-old gunman who allegedly died from a self-inflicted gunshot wound, and seven others were injured when a shooter opened fire in a Lafayette, Louisiana, movie theater Thursday night, CNN reported.
The shooter, who allegedly used a handgun, was described as a 58-year-old white man who was a theater patron, Lafayette police Sgt. Brooks David told CNN. He was believed to have acted alone.
Police Chief Jim Craft added that he had a criminal history. Details were not provided.
The unidentified gunman had "fired randomly" at people in the theater, local television station KATC reports.
"There's nothing to believe that there was any kind of motive," Louisiana State Police Col. Michael Edmonson told CNN.
The shooting occurred inside the Grand Theater, also known as the Grand 16 (map), in Lafayette, a city of about 120,000 people located some 60 miles west of Baton Rouge.
The gunfire was reportedly contained to a single theater — the 5:10 p.m. PST screening of "Trainwreck," a comedy that premiered last Friday.
About 100 people were inside the theater at the time, according to CNN.
After the shooting, the film's star and writer, Amy Schumer, tweeted: "My heart is broken and all my thoughts and prayers are with everyone in Louisiana."
My heart is broken and all my thoughts and prayers are with everyone in Louisiana.

— Amy Schumer (@amyschumer) July 24, 2015
Seven people who were injured in the shooting suffered critical to non-life threatening injuries and were in their late teens to 60s, Craft said.
A teacher was among the injured and was shot in the leg when she jumped in front of someone and pulled a fire alarm, KATC reports.
Jalen Fernell, who was in a theater next door when shots broke out, told CNN he thought the commotion was part of the movie until an alarm went off and officials warned patrons over the theater's intercom to exit the building.
"Immediately we get terrified because they are telling us to head out to vehicles," Fernell said. "It was kinda like a war going on … gunshots after gunshots."
Another witness said she ran when the alarm sounded.
"I saw people bleeding from the leg, they were shot," Paige Bearb told CNN. "I was like, 'Wow.' It was like a movie itself."
Louisiana Gov. Bobby Jindal asked for prayers for the Lafayette community in a tweet.
"I'm on my way to Lafayette right now. Please say a prayer for the victims at Grand Theatre and their families," Jindal tweeted.
America's support was appreciated, Jindal said at an evening news conference.
"This was an awful night for Lafayette, this was an awful night for Louisiana, this was an awful night for the United States. But we will get through this," Jindal said.
Law enforcement officials were doing "an incredible job," he added.
"They literally were running into and toward the theater as they heard those shots fired," Jindal said of police.
Prayers for Lafayette at Grand Theater. Talking to state police colonel about shooting in Lafayette.

— Gov. Bobby Jindal (@BobbyJindal) July 24, 2015
Officials with the Bureau of Alcohol, Tobacco, Firearms and Explosives were also at the scene, the department tweeted.
Hours after the deadly incident, local TV crews were "pushed back from the scene" because of a bomb threat at the Greenbriar Condominiums, across the street from the theater, KATC reported. Further details were not immediately available.
The shooting occurred one week after James Holmes was convicted of 24 counts of first-degree murder in another deadly movie theater shooting in Aurora, Colorado.
Holmes opened fire on a July 19, 2012, screening of "The Dark Knight Rises," killing 12 people.