This is an archived article and the information in the article may be outdated. Please look at the time stamp on the story to see when it was last updated.
Six U.S. troops who died after their Black Hawk helicopter crashed in southern Afghanistan may have survived the crash only be be killed by Taliban forces on the ground., a U.S. defense official said. One person survived.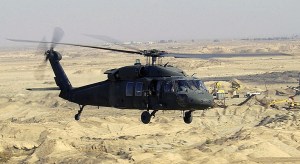 The Pentagon initially reported the crash was likely the result of a mechanical falure, saying there was no indication of enemy activity in the area at the time.
But later in the day questions surfaced about whether the troops may have actually survived the crash and then came under mortar fire."We believe there was some sort of enemy engagement once the helicopter crashed," one officials told CNN.
The troops were members of the NATO-led International Security Assistance Force.
Their names were not released.
The incident marks the single-deadliest day for U.S. forces in Afghanistan since a helicopter crash killed seven Americans and four Afghans in August 2012.
It also raised to 129 the number of U.S. troops who died in 2013 while supporting Operation Enduring Freedom. The vast majority were lost in Afghanistan.