This is an archived article and the information in the article may be outdated. Please look at the time stamp on the story to see when it was last updated.
TAVARES, Fla. — Equipment failure and human error likely caused propane tank cylinders to explode at a central Florida refilling plant late Monday, a fire official said Tuesday.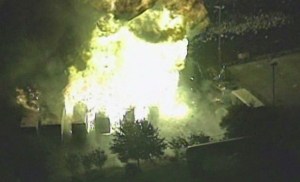 The blasts at the Blue Rhino plant in Tavares injured eight plant workers, said John Herrell of the Lake County Sheriff's Office.
The situation is now contained and an evacuation order issued overnight has been lifted, the Florida Division of Emergency Management said in a news release.
Residents nearby saw a pulsating glow in the sky. One Tavares resident, Norma Haygood, told CNN affiliate WESH it felt like "bombs going off."
Click here to read the full story on CNN.com.