This is an archived article and the information in the article may be outdated. Please look at the time stamp on the story to see when it was last updated.
Eight Americans, two Swedish tourists and at least one Canadian were among the victims of a tour bus crash in Mexico's Yucatán Peninsula that left 12 dead and more than 10 people injured, officials said Wednesday.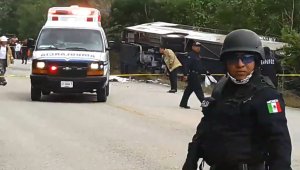 The bus was carrying 31 people, including tourists from the United States, Canada, Italy, Brazil and Sweden, in the state of Quintana Roo, according to Public Security of Quintana Roo.
A child was among the dead, the agency said, and a local tour guide was also killed.
The bus was traveling from the coastal village of Mahahual to the Mayan archaeological site Chacchoben, according to the public security office in the state of Quintana Roo.
Chacchoben is about 110 miles south of the popular tourist destination of Tulum. Video of the aftermath of Tuesday's crash showed the bus on its side in a wooded area off the road.
Of the 13 passengers who were injured, three were from Canada, four from Brazil and four from the United States, according to the Quintana Roo government. Two of those injured, originally from Sweden, have been transferred to the United States.
"We express our heartfelt condolences to all those affected by this tragedy," the U.S. State Department said in a statement. "We are in contact with local authorities, and will continue to monitor the situation. We have staff on the scene and at local hospitals to assist victims and loved ones."
Four of the injured remained hospitalized Wednesday: a Brazilian and three Americans, according to a statement from the Quintana Roo state prosecutor.
Prosecutor Miguel Ángel Pech Cen, said early indications are that the bus may have been traveling at high speed.
The bus driver was hospitalized and could face criminal charges, the state prosecutor said. The injured were taken to hospitals in Bacalar and Chetumal. Five were later released.
Among the bus passengers were 27 cruise guests from two Royal Caribbean ships, Celebrity Equinox and Serenade of the Seas, the cruise line said. The ships arrived Tuesday in the busy cruise ship port of Costa Maya, a vacation destination on Mexico's Caribbean coast near the Belize border. Both ships left Tuesday afternoon.
"Our hearts go out to all those involved in the bus accident in Costa Maya. We are doing all we can to care for our guests, including assisting with medical care and transportation," spokeswoman Cynthia Martinez said. "We are working with the local authorities to learn more about the accident."
Celebrity Equinox, a seven-night Caribbean cruise, departed from PortMiami on Saturday. Serenade of the Seas left Fort Lauderdale, Florida, on Friday.