This is an archived article and the information in the article may be outdated. Please look at the time stamp on the story to see when it was last updated.
The proceeds from a Missouri boy's lemonade stand have been earmarked for a very special purpose: 9-year-old Tristan Jacobson initially hoped to simply raise enough money to help pay for his formal adoption.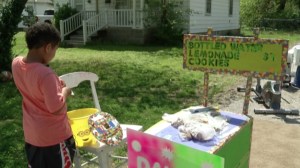 The stand and a yard sale held Saturday afternoon by the boy's foster mother, Donnie Davis, have earned about $7,100 -- or $2,100 more than they had intended to generate for legal and adoption fees, the Springfield News-Leader reported.
What's more, $7,425 has been donated to a YouCaring fundraiser site created to help Tristan's cause.
"There's not enough words to say 'thank you' to everyone who has shown support or given us donations," Davis told the News-Leader, adding that the excess funds will go toward the third-grader's education. "Everyone has made this possible. We will make sure this child will forever be ours."
The lemonade stand, set up in front of the boy's foster home in Springfield, also offered cookies and bottled water — all in hopes that he will officially be Davis's son someday soon.
"I've kind of coached him on some things to say" to customers, she told KYTV on Friday. "He gets a little nervous and stuff. Sometimes he'll just sit there, and I'm like, 'You have to greet them.'"
Tristan seemed to be getting the hang of it that afternoon, when he said to a customer after a transaction: "Thank you for helping us for our adoption."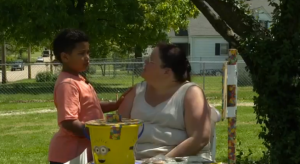 On a 17-degree day in January 2012, the boy's biological mother — who's life was marked by prostitution and drugs — left the then-5-year-old on the doorstep of a shelter, according to KYTV. Davis later received a phone call.
"I was scared to death," she said. "If he was scared, if he was hurt, what was going on through his mind?"
Four years later, Tristan said he felt safe, loved and grateful to have a family of his own.
"I know she's responsible, taking care of me," he said of Davis. "I know she's going to be a great mother."
The lemonade stand seemed to embody his hopes of making his status official.
"In mine and my husband's hearts, that's our son," Davis said. "Nobody can tell us any different. That is our son. He wants to be legally ours."