This is an archived article and the information in the article may be outdated. Please look at the time stamp on the story to see when it was last updated.
The tape of a 911 phone call initiated by an Ohio man who dialed emergency personnel to report he was "too high" on marijuana earlier this month was released this week.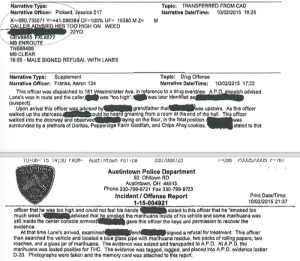 In the recording, obtained by KTLA sister station WJW, the unidentified 22-year-old man begins by telling the dispatcher, "I'm too high."
"You're too high?" the male operator asked.
"Yeah," the young man responded, adding, "I can't feel anything."
When pressed by the dispatcher on what he had taken, the man simply said, "Weed."
He told the operator he was not home alone, but that the person who was in the house was unaware of his condition at the time.
According to a report from the Austintown Police Department, an officer initially responded to a home in the 100 block of Westminster Avenue on the afternoon of Oct. 2 in reference to a drug overdose. Dispatch then advised the officer that the caller had reported being "too high."
When the officer arrived, he was met by the man's grandfather, who told the officer that his grandson was upstairs.
"As this officer walked up the staircase (redacted) could be heard groaning from a room at the end of the hall. The officer walked into the doorway and observed (redacted) laying on the floor, in the fetal position," the report read.
It continued that the man "was surrounded by a plethora of Doritos, Pepperidge Farm Goldfish and Chips Ahoy cookies."
He allegedly advised the officer that he had "smoked too much weed," according to the report.
The officer later searched the man's car and recovered a glass pipe, rolling papers and a jar of marijuana, the police report said.
He faced possible charges for drug possession and drug paraphernalia, according to WJW.